Television magazine about computer and console gaming. Every week INDIAN brings on the TV screen the biggest news, reviews, specials in the most epic fun.
First aired:

13rd February 2008

Available on:

DVBT, Cable, YouTube

Genre:

Gaming / Entertainment

Language:

Czech

Website:
Project website
Watch episodes
THE UNIQUE ALTERNATIVE
As other our projects, main goal during creating INDIAN is to have a fun! Computer games are deep in our lives. So, why don't shoot TV show about them?
We are presenting the playfulness of today's young generation and thanks to unusual and popular approach to audience we have strong community with more than 90.000 followers. Our TV show is unique alternative to any other competitor.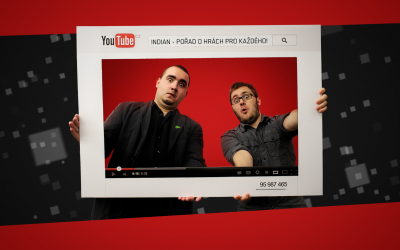 WHY "INDIAN"?
Name INDIAN comes from the word: independent. When we started the show, we wanted to review mostly the indie games, but back then in 2006 - the indie scene just started to grow. So it not takes long to have focus on whole game scene.
Our original idea is still here though. Our TV show is completely funded by our studio and when we accept marketing opportunities, they have to fit all requirements of our manifest. That way, we can stay independent and review the games with honesty and in a way which our viewers love.
ARE YOU A DEVELOPER?
If you have a game which you want to get covered by our TV show, contact us:
---